Agricultural Supplies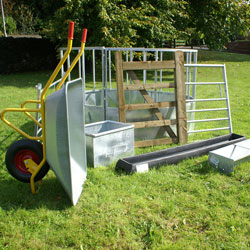 click to enlarge
We offer a "One Stop Shop" for farmers & Small Holders where products are in stock to cover their day to day requirements. We stock a range of stock feed, feed blocks, wormers and accessories for cattle, sheep, pigs, poultry, and horses.
Stock includes:
Stock Feeding, Watering and Handling Equipment
Electric Fencing Equipment – Energisers,Gate Systems, Insulators, Posts, Wire and Tape
Wide selection of Stock Feeds including Farmgate, Allen & Page, Argo and Dobson & Horrell
Full Range of Equine Products and Feedstuffs
Fencing and Traditional Farm Tools
Farm and Work Clothing, Boots and Wellingtons
Bales of Shavings, Sawdust and Haylage
Everything for the Poultry Rearer and Egg Producer
Sheep Shears, Combs and Cutters, Marking Fluid and Sprays
We also stock seasonal farming products such as baling band, silage wrap haybob tines, mower blades, weed killers, Rat poison, cage/traps, calf & lamb colostrum, bottles, SCA milk and much more.
We carry a basic stock of tractor and machinery spares including tractor batteries, tow pins, lynch pins, PTO shafts, top links, lighting boards and much more.
If we don't have in stock what you are looking for we can generally obtain goods at short notice.